Fresh Seasonal Fruit and Vegetables
The Hayrack Farm Shop has a wonderful array of locally sourced fresh salads, vegetables and fruit. We are proud to support local farmers and throughout the year work in partnership with local growers who supply us with their produce when it is in season to ensure maximum freshness, quality and taste.

Fresh Fruit Baskets, Hampers and Vegetable Boxes can be produced to order, just ask.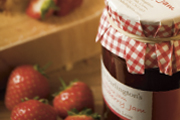 We stock a nice range of sauces by 'The Marmalade Tree' and a great selection of award-winning quality jams, curds and marmalades by the famous 'Mrs Darlingtons' in Cheshire.

Using only natural ingredients with no artificial preservatives or colour, Mrs Darlington's products are also suitable for vegetarians.


Delicious Sauces
Mild Korma Curry Sauce
Rogan Josh Curry Sauce
Tikka Masala Curry Sauce
Ale and Mushroom Casserole Sauce
Chicken Casserole Sauce
Tomato and Basil Pasta Sauce
Marmalade, Jam & Chutney
Orange Marmalade - Thick Cut, Medium Cut, Medium Cut with Scotch Whisky & Shredless, Pink Grapefruit Marmalade
Extra Jam - Strawberry, Plum, Blackcurrant, Raspberry, Summer fruit
Lime Curd & Legendary Lemon Curd
Orange Curd with Cointreau
Cherry Curd with Cherry Brandy
Pineapple Curd with Malibu
Sweet Apple Chutney
Flowers & Hanging Baskets
Throughout the year we have a colourful, varied display of garden plants, shrubs, pots and hanging baskets on sale. Our ranges change with the seasons so why not pop along and have a look what we have on offer? We're always happy to advise.